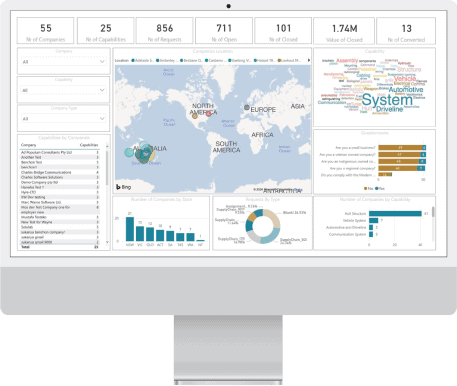 With so many features, understand how BenchOn can support your business to succeed in a resource-competitive future.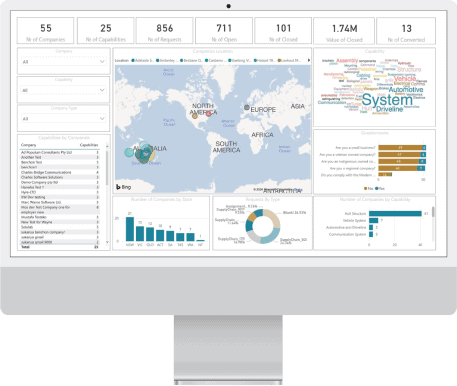 As you professional 'shop front' to engage with your business, we can tailor your Industry Portal to meet your specific needs.
1. Choose Configuration

Use the features of BenchOn that suit your business operations. Choose from branding design, talent-based contracting, supply chain tendering, sub-accounts, user permissions, Business Intelligence reports that meet your needs and more.
2. Set up capabilities list

Provide us with a specific list of capabilities that you are going to tender against through the portal. This makes your tender matching extremely accurate and your data analysis meaningful. We can build these over time to provide you with the ultimate list of capabilities for your business.
3. Invite supplier base

BenchOn can bulk invite supplier lists from other systems, such as ICN Gateway and others, so that you can easily migrate your suppliers to the new system. They will get a branded email inviting them to your portal and operations follow up to make sure they complete the invite.
4. De-risk future projects with data analysis

Analyse the capabilities and skill sets available in your supply chain against the requirements for your projects. Find the gaps and focus company energy to filling those gaps before the project starts. Alternatively, analyse your ability to complete the project before tendering to save time and money.
5. Release Tenders/Talent based support requests

Release Assignments to find specific skill sets to fill important positions. Match to businesses that have those people available at the time and rate that you need.
Release tenders to match to companies that have the capability you need. Reduce unwanted tender responses by only sending tenders to those that can actually do it.
6. Report on where work is allocated

Access reports that show where tenders and talent-based opportunities have been allocated so you can analyse your spend and report to your customers where the work is going. Local content reporting is now easier than ever.
7. Continue to build a world class local supply chain

Suppliers don't disappear after a project, they are registered against your company portal, so your supply chain builds over time. Build the supply chain to meet all your future demands so you can analyse what you need, meet that need and ensure future success.
8. Your BenchOn Concierge is here to make sure your Portal is a success!

You will have a dedicated Concierge who will manage and monitor your portal, handle supplier concerns and ensure your portal is operating how you need.
As your means of being matched to the biggest companies and government agencies, your BenchOn company profile is extremely important to get right. Unlike other systems, the matching technology is very specific and you will only see what has been matched to your company profile.
1. Register at benchon.com or on a specific Industry Portal Registration Page

Your BenchOn profile provides you access into all the Industry Portals on the system as well as the National Network. With one username and password, you can log into BenchOn and all linked Industry Portals and share your company information to those portal owners for matching and analysis.
2. Set up your company profiles based on how you want to use the platform

If you are looking for talent-based contract opportunities, go to 'My Talent' and create your profile with the skill sets you have in your company. No need to upload all employee profiles, the system will match to your skill sets first and you will have the opportunity to create employee profiles in response to opportunities.
If you are a manufacturer or product supplier, then create your company profile under 'Supply Chain'. Supply Chain is only available in select portals. Each portal has their own capability list. Ensure you tailor your company profile in each relevant portal.
3. Use the Portal Marketplace to find Industry Portals that suit your business.

By clicking 'join' your company information is immediately registered in that portal. Your talent profile is automatically connected but you will need to tailor your supply chain profile for each portal to meet their specific needs.
If a portal is 'invite only', complete the registration request form to inform the portal owner that you are interested in supplying to that company.
4. Notifications will be sent to your email of any matches to your profile.

Either follow the link in the notification email or login to the relevant portal and view the notification and take the action.
5. Respond to opportunities and tenders as they come in

No need to register for individual projects, if any project within the organisation hosting 
the portal needs your capabilities, then you will be matched.
Respond when you like and decline opportunities that don't suit you. You will be notified 
if you are successful or if you didn't make it so you always know where you stand.
6. Submit Assignments when you need talent support in your business

The National Network is your tool as well. If you are short on talent, you can find businesses with the talent you need for free. Never turn down work again because you didn't have the people you need.
7. Your BenchOn Concierge is always on hand to help at no cost

We don't believe in 'pay to be seen' models or paying extra for help. We want to make sure you can access and win work as easily as possible, so we have humans available to talk to whenever you need.
You will receive a welcome call when you register to make sure your questions are answered and your profile is set up correctly. Contact them any time you have questions.