Business Talent Sharing Portal supporting Job Stability through COVID-19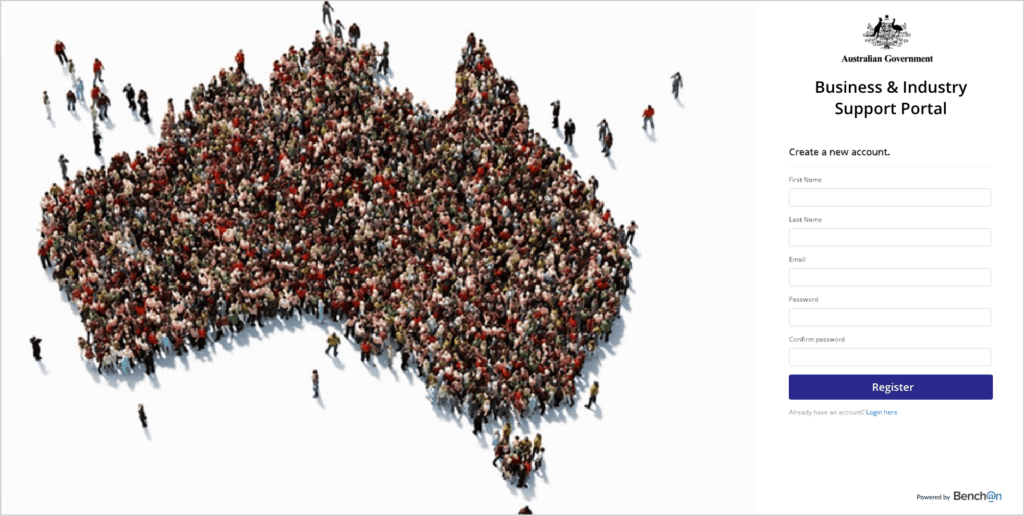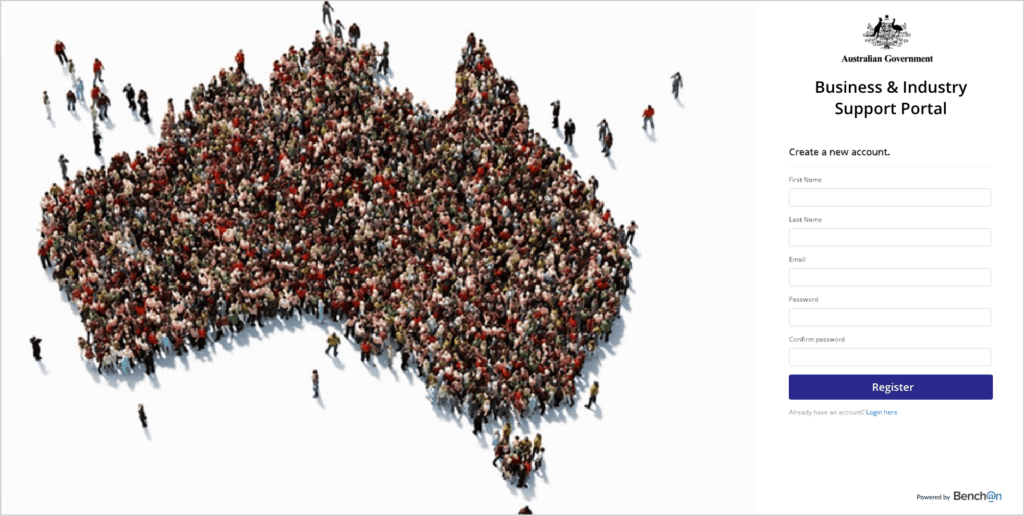 The Need. The Australian economy is facing unprecedented stress, with companies like Qantas standing down 20,000 staff, the hospitality and tourist sector closing its doors and yet other sectors, such as the telecommunications, IT, specialist manufacturing, medical, pharmaceutical and the supermarket and grocery industry, facing unprecedented demand. In this uncertain and disruptive time, there has never been a greater need to support businesses in sharing staff to manage these unpredictable troughs and spikes. BenchOn has the tool to allocate labour resources swiftly across this turbulent landscape and in so doing, reduce company closures and prevent large increases in unemployment.
Business Collaboration can build the resilience to weather this economic crisis.
BenchOn is the world's first Business Talent Sharing Platform that matches the demand from companies seeking specialist support, to the companies that have the spare capacity in their workforce to meet this need. This platform is uniquely suited to Australia's current economic climate, since it offers a tool of stability to Australia's employment landscape that is currently so urgently required.
BenchOn is a veteran owned, Australian company that is currently supporting over 1000 businesses across Australia. Over the last 3 years it has processed over $100m worth of contracts across ten industries and successfully matched 254 contracts at a commercial value of over $31,500,000.00.
The Solution. BenchOn has submitted for the consideration by the Federal Government Australia's first 'Business & Industry Support Portal'. This platform will allow businesses of all industries to collaborate and survive through this economic crisis. Specifically, it will:
Support the transfer of staff from heavily affected industries to industries that need support,
Help maintain job stability, reduce unemployment, underemployment and reduce business closures,
Support industry productivity in an extended isolation period and strengthen the off-site working environment Australia must now support.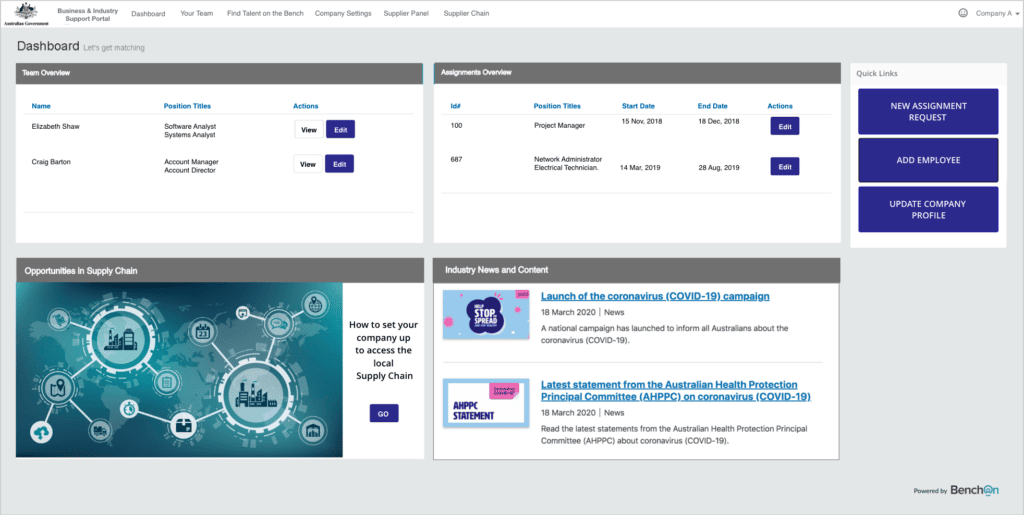 Benefits. This portal will be central to smoothing the economic peaks and troughs that are threatening thousands of Australian companies. Key benefits include:
For Australian businesses:

Automatic linking to additional contract opportunities both locally and remote.

Job Stability for employees generating a faster recovery after the crisis.
Access to the best talent hidden in the best businesses across the country.

For the Federal Government:

Potential $2bn cost savings by keeping one million workers off welfare.
Greater agility and responsiveness by helping businesses to manage their own workforce needs.
Supporting a world-first technology in collaborative economic crisis management leading to export opportunities.

Australian Economy:

Faster recovery, greater productivity, critical industry and skill sustainment.
Quick Action. BenchOn can launch the portal within two weeks of the Federal Government offering its support and expand the current platform to support the over 250,000 Australian businesses that are affected by the current economic contraction.
In so doing, it will create a portal offering a labour matching tool that will be an Australian world-first in its scope and client depth.
If this type of service would support your business in getting through this COVID-19 economic slowdown, then please show your support by sharing this with your local member, State Premier or the Prime Minister himself! Together we can create the collaborative business environment to weather this storm and bounce back on the other side.
Or please visit our COVID-19 Support Page or contact BenchOn on 1300 0 23624 to find out how we can support your business during this tough time.
Subscribe to

our Insights